Our 40-Week Prenatal Fitness program helps you navigate fitness throughout your entire pregnancy!
We offer our programming in two options:
One Time Purchase ($250; lifetime access for future pregnancies)
Month to Month Subscription ($35; Cancel anytime by emailing us at [email protected]; Automatically Cancels after 9 months, if you pay all 9 months, you can use it for future pregnancies)
Education Course ONLY for $50 (this option includes NO fitness programming)
Please note your payment may be different than the prices listed due to taxes.
All options include our prenatal fitness guidance and educational videos on how to approach fitness throughout pregnancy!
After signing up, within 24 hours, you will receive an email from Teambuildr with easy access to our prenatal fitness programming from your smart phone! We create the fitness programming accounts manually, so Teambuildr access will not be automatic. Teachable will contain all our educational videos on how to approach fitness throughout pregnancy.
If you are looking for shorter workouts designed to help support your comfort throughout pregnancy, check out our 3-Week Pelvic Stability Accessory Program that can be repeated multiple times with new variations.
What does a prenatal fitness training week look like??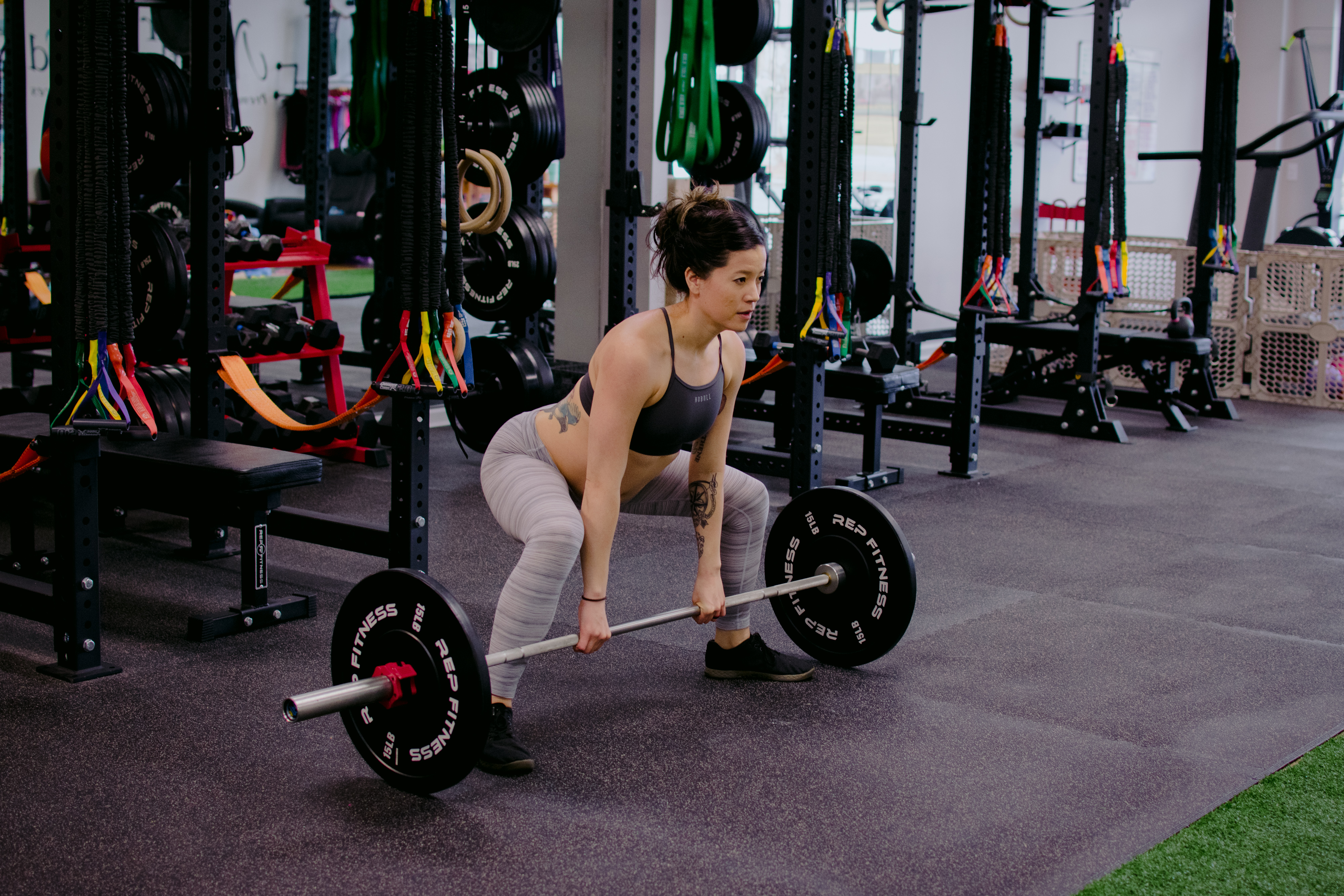 Squat/Deadlift Focused Day
The first training day focuses on squats and deadlifts, paired with single leg or staggered stance strengthening exercises. The training day finishes with pelvic stability focused accessory work, and an optional conditioning.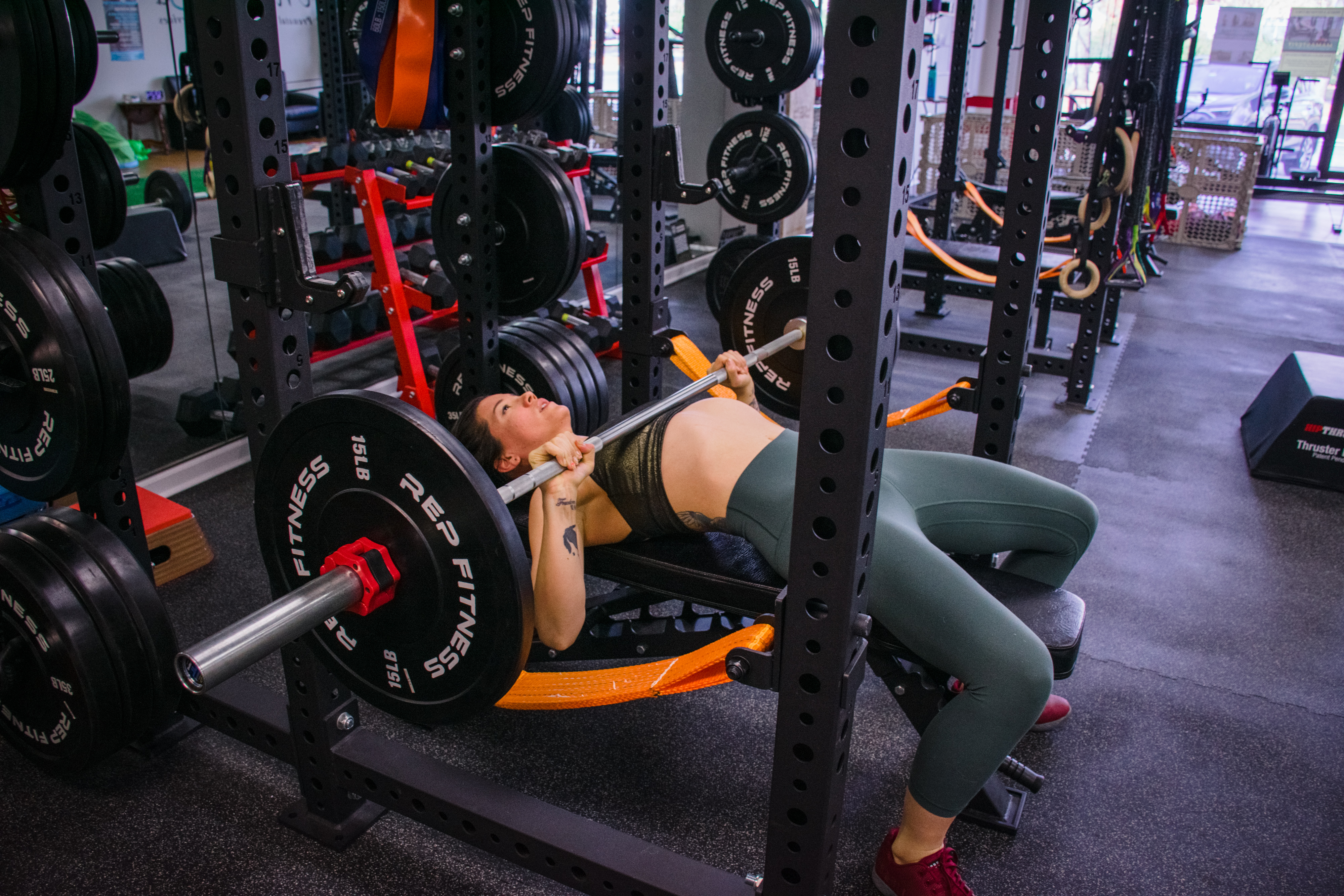 Chest/Back Focused Day
The second training day focuses on bench press and vertical pull, paired with prenatal safe core strengthening exercises. The workout progresses towards upper body accessory work. The training day finishes with a cardio endurance effort.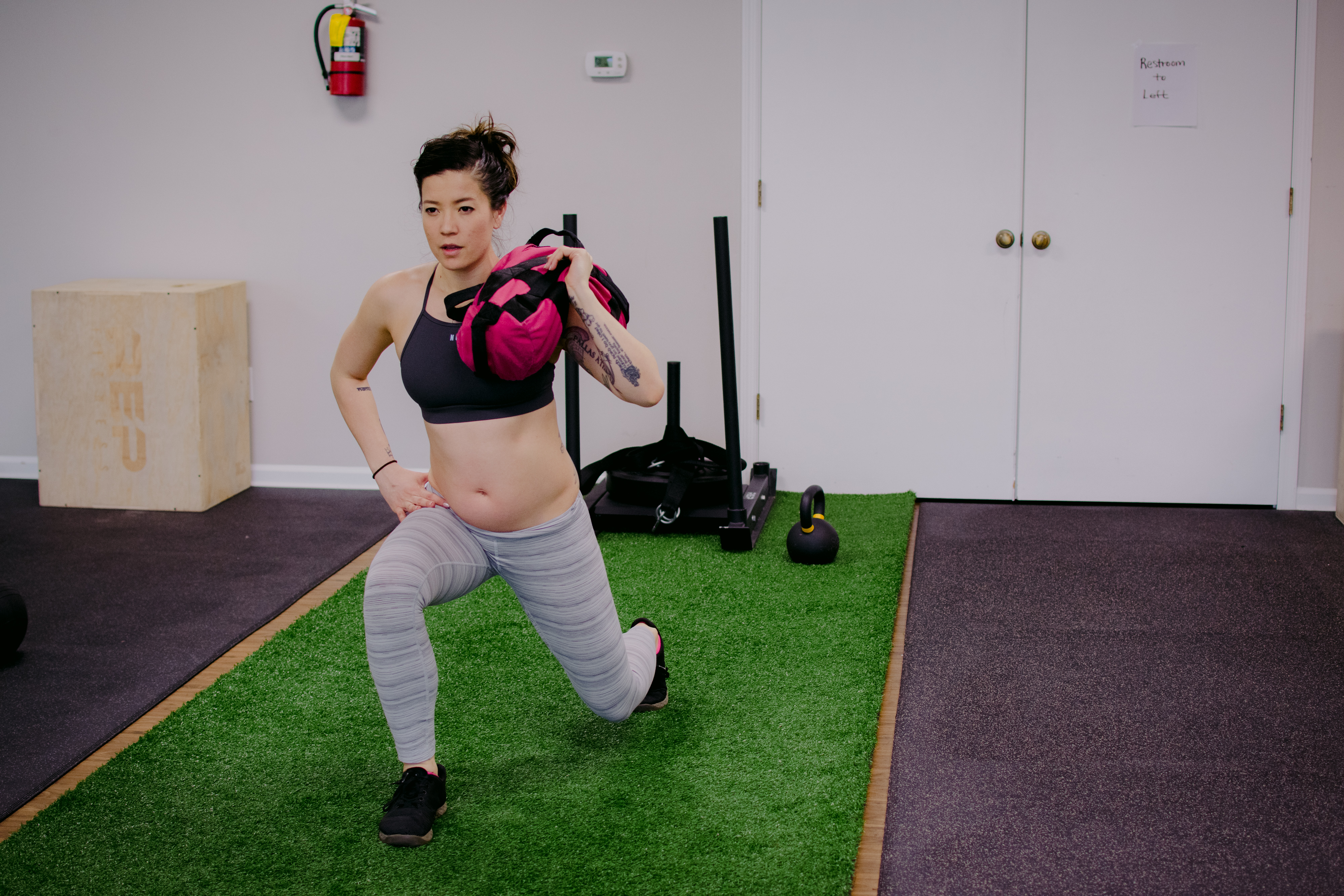 Glute Focused Day
The third training day focuses on strengthening the glutes and hamstrings. This day consists of hip thrust and lunge variations. This training day finishes with pelvic stability focused accessory work and an optional walk.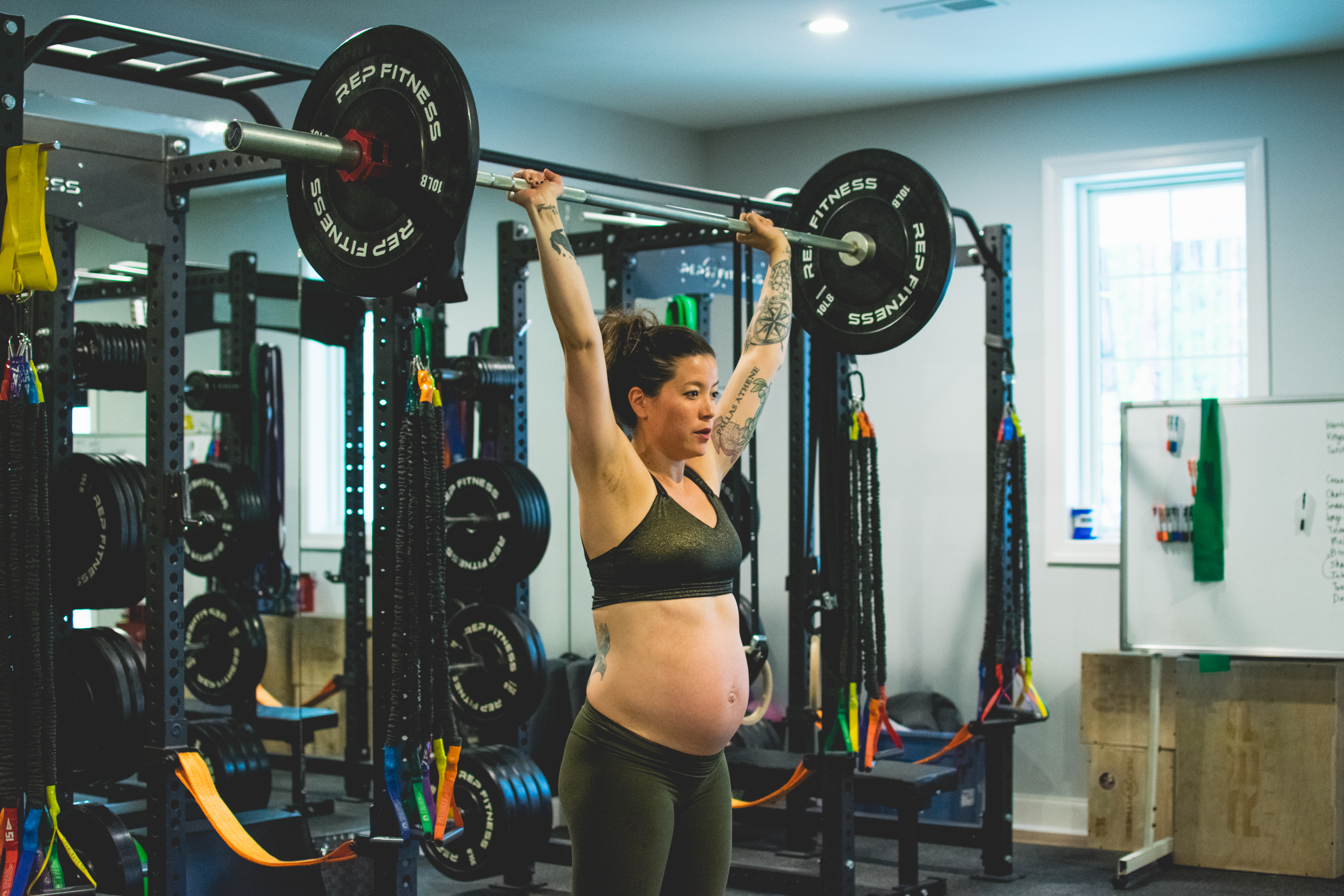 Shoulder/Back Focused Day
The final training day focuses on overhead press and rows, paired with prenatal safe core strengthening exercises. The training day includes upper body accessory work and finishes with a cardio endurance training effort.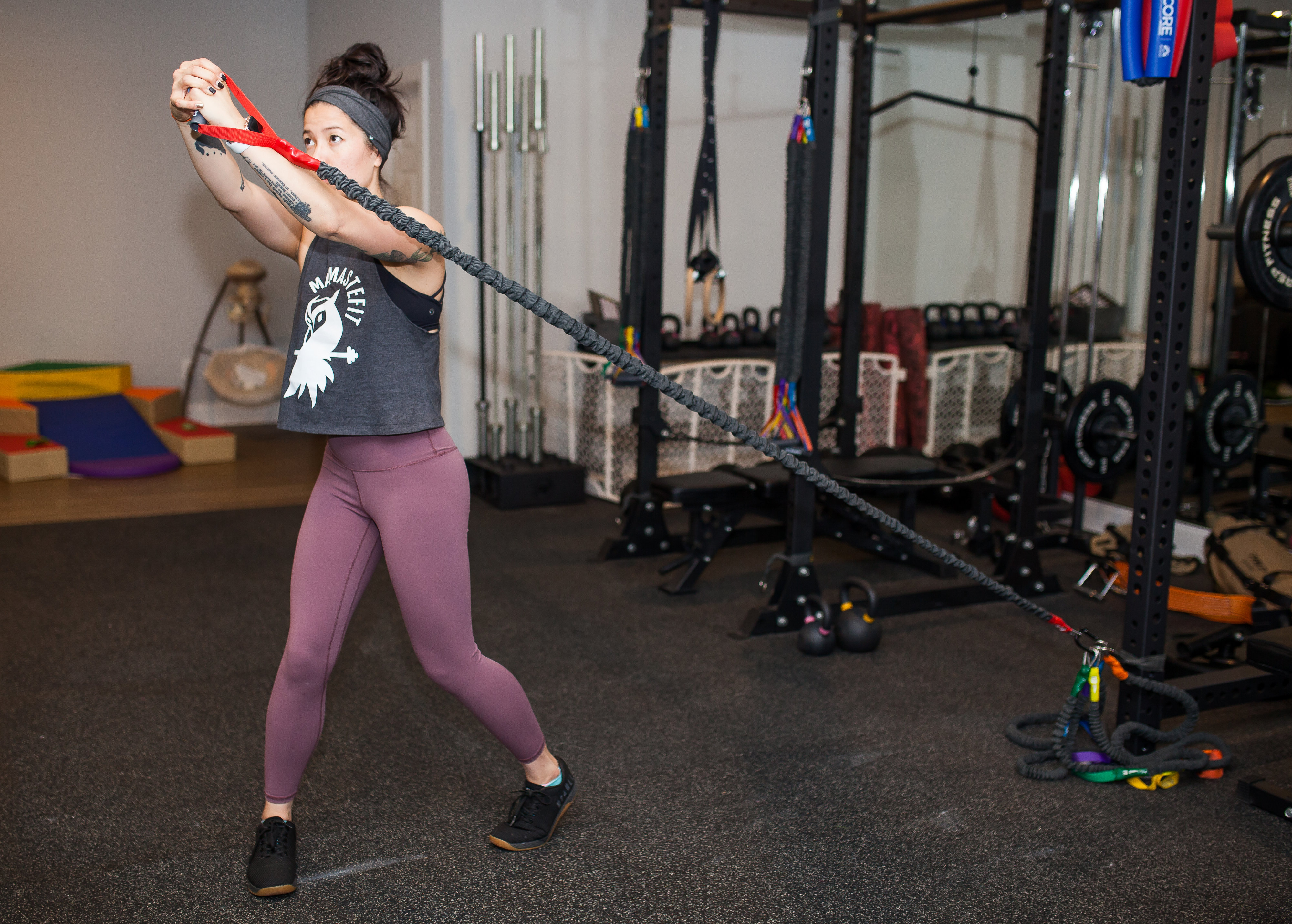 Pelvic Stability Reset Day
There is an optional pelvic stability accessory work day in the middle of the training week. This training day focuses on the myofascial slings and supporting the pelvic girdle.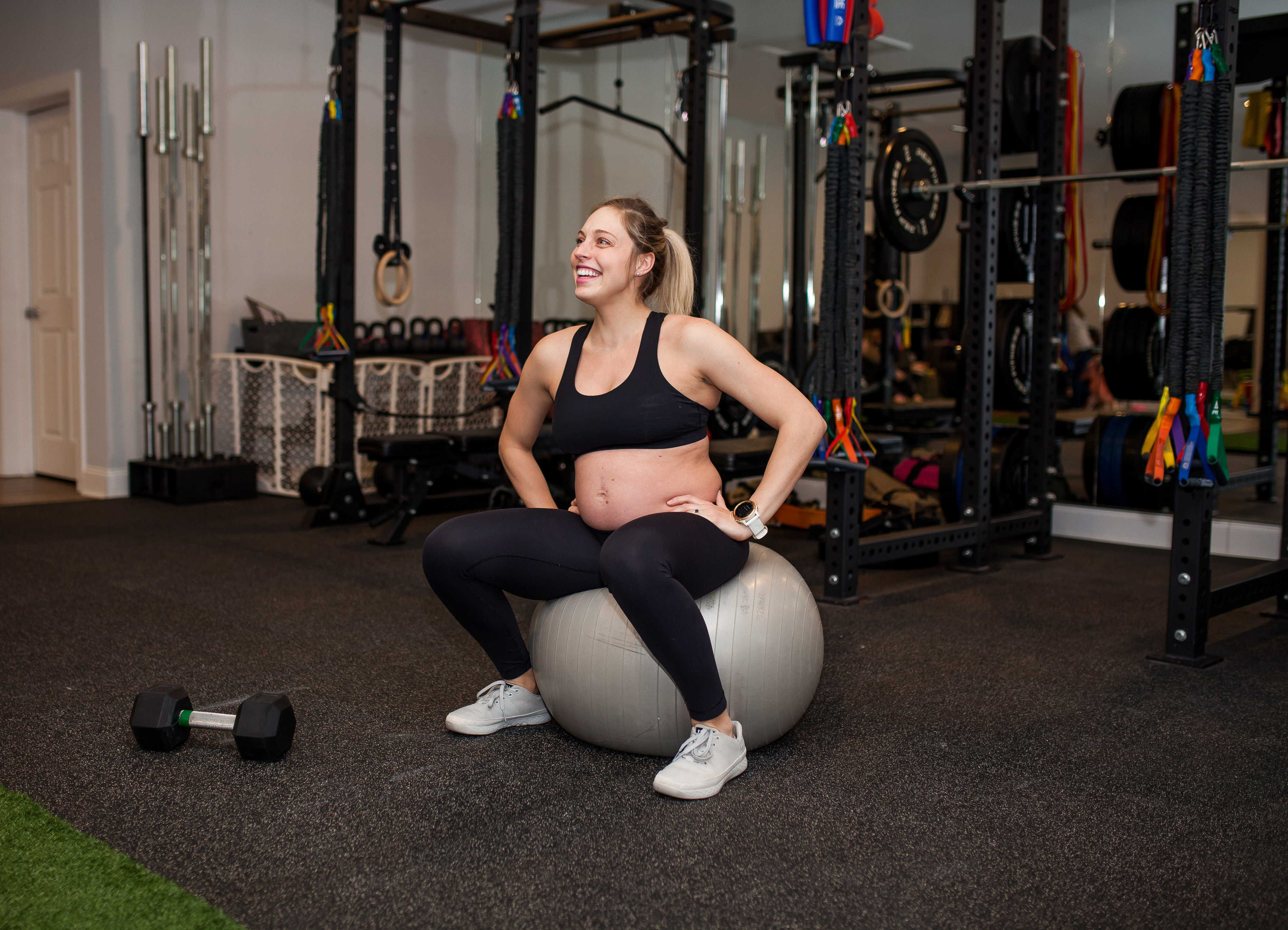 Labor Preparation
The final two months of our programming shifts towards a focus on labor preparation. Program volume begins to lower, and we taper for birth!
What are our prenatal fitness clients saying about our programming?
"Gina and the MamasteFit programming changed my life and empowered me to bring my beautiful & strong baby girl into this world on my own terms. Her prenatal workout routine allowed me to feel like myself in my ever-changing body, and guaranteed I felt incredibly strong and informed as my baby, and belly, grew and grew... I cannot stress enough the wealth of information and compassion that this woman and her gym can provide to moms of all sorts. My birth was able to be all natural and exactly as I had hoped. I am 2 weeks postpartum now and I look and feel better than I ever thought possible! 10/10 recommend this incredible resource!!!"
"[Gina's] expert fitness coaching at MamasteFit throughout my second and third trimesters made me feel tremendously strong and ready for labor when it came. This training also helped me keep my weight and blood sugar under control when I was diagnosed with gestational diabetes. I'm convinced my third trimester would have been far more uncomfortable without her strength training. I felt very balanced, and my baby was in an optimal position when my labor started spontaneously at week 39."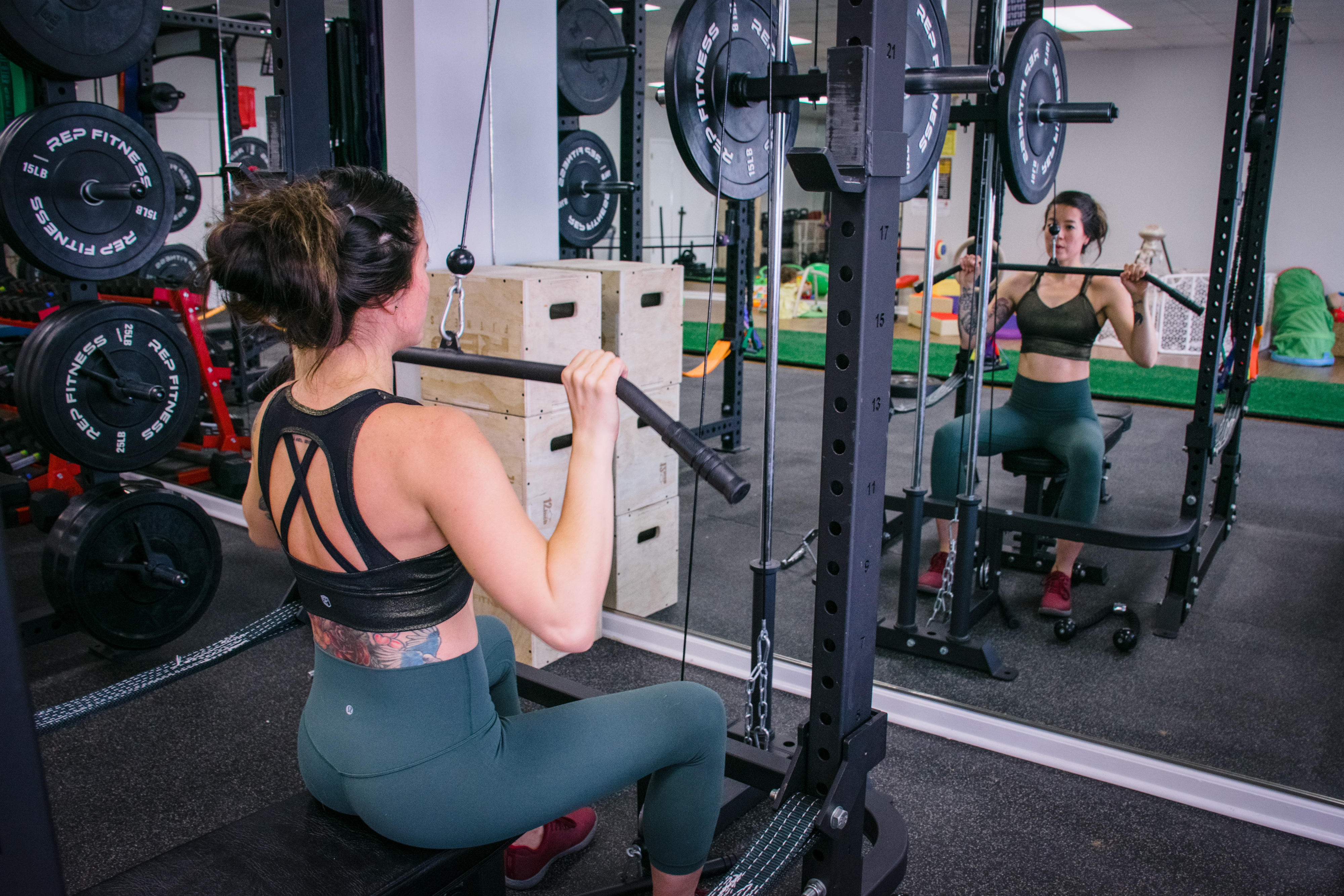 Learn how to approach fitness during pregnancy through all trimesters!
We offer trimester by trimester modification guidance that can be adapted to your specific pregnancy! Training in-person prenatal clients for several years has helped us develop modifications to meet any pregnancy!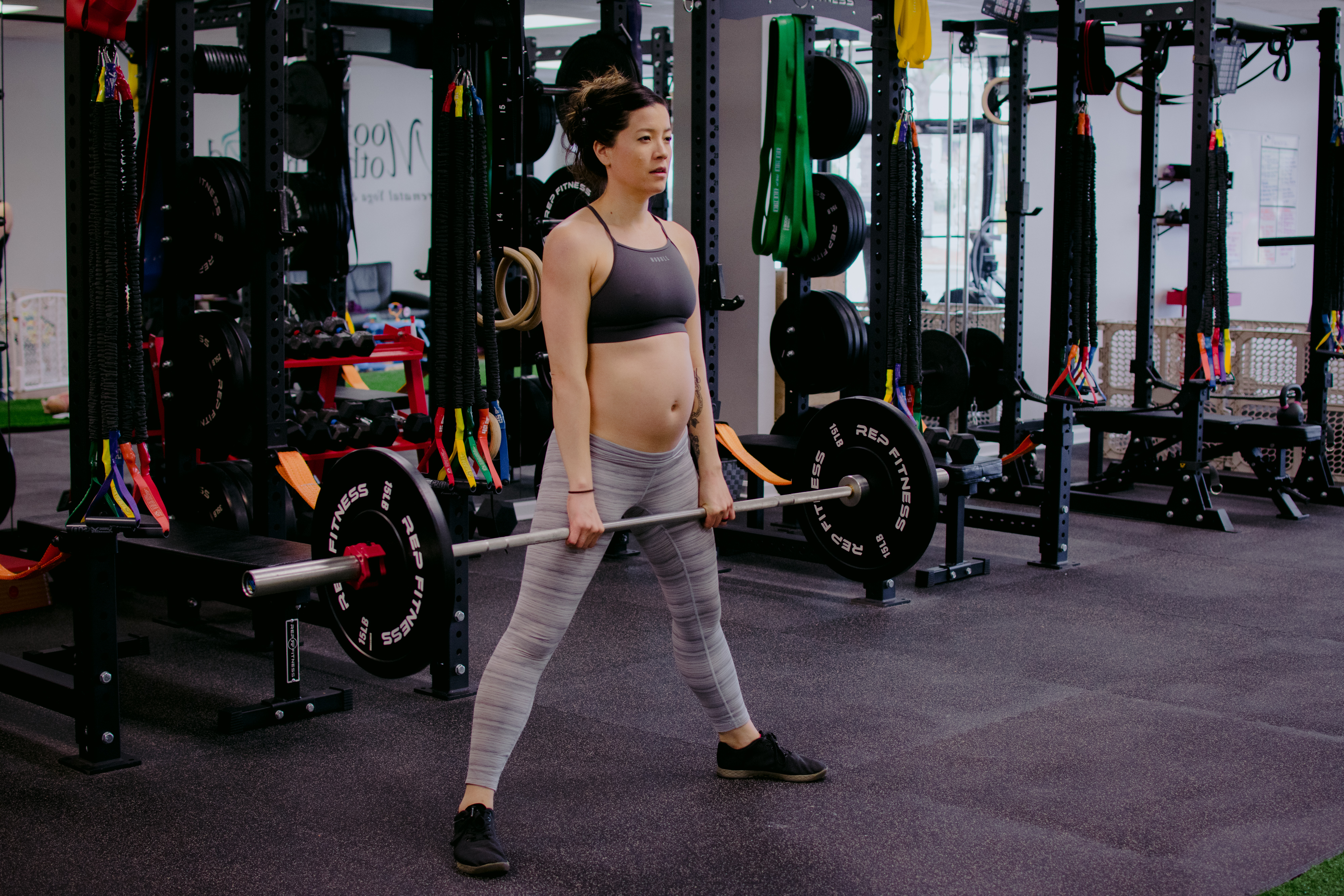 Alleviate common prenatal discomforts with a proven approach!
Because we work exclusively with prenatal clients, we are able to develop solutions to common prenatal discomforts such as pelvic pain or low back pain! Our programming incorporates exercises that are focused on strengthening the connection of our myofascial slings to help increase stability of the pelvis and core.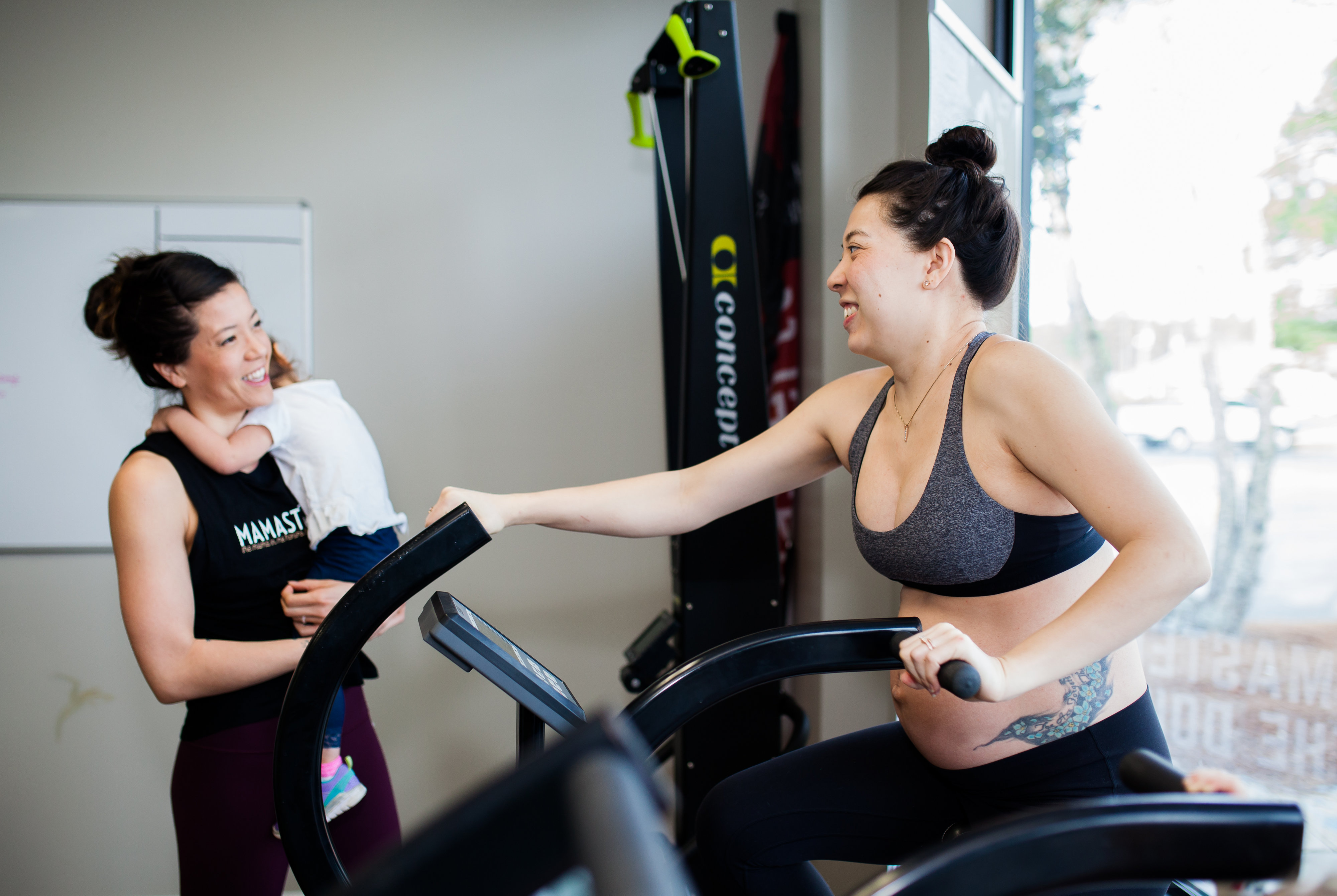 Understand the science of why and how to exercise throughout your pregnancy!
We explain how to approach fitness training throughout pregnancy, and why it is important to continue to move throughout your motherhood journey! Our fitness programming approach can help set the stage for the labor mindset. Our programming is challenging, but each day should be approached with grace: some days you will feel great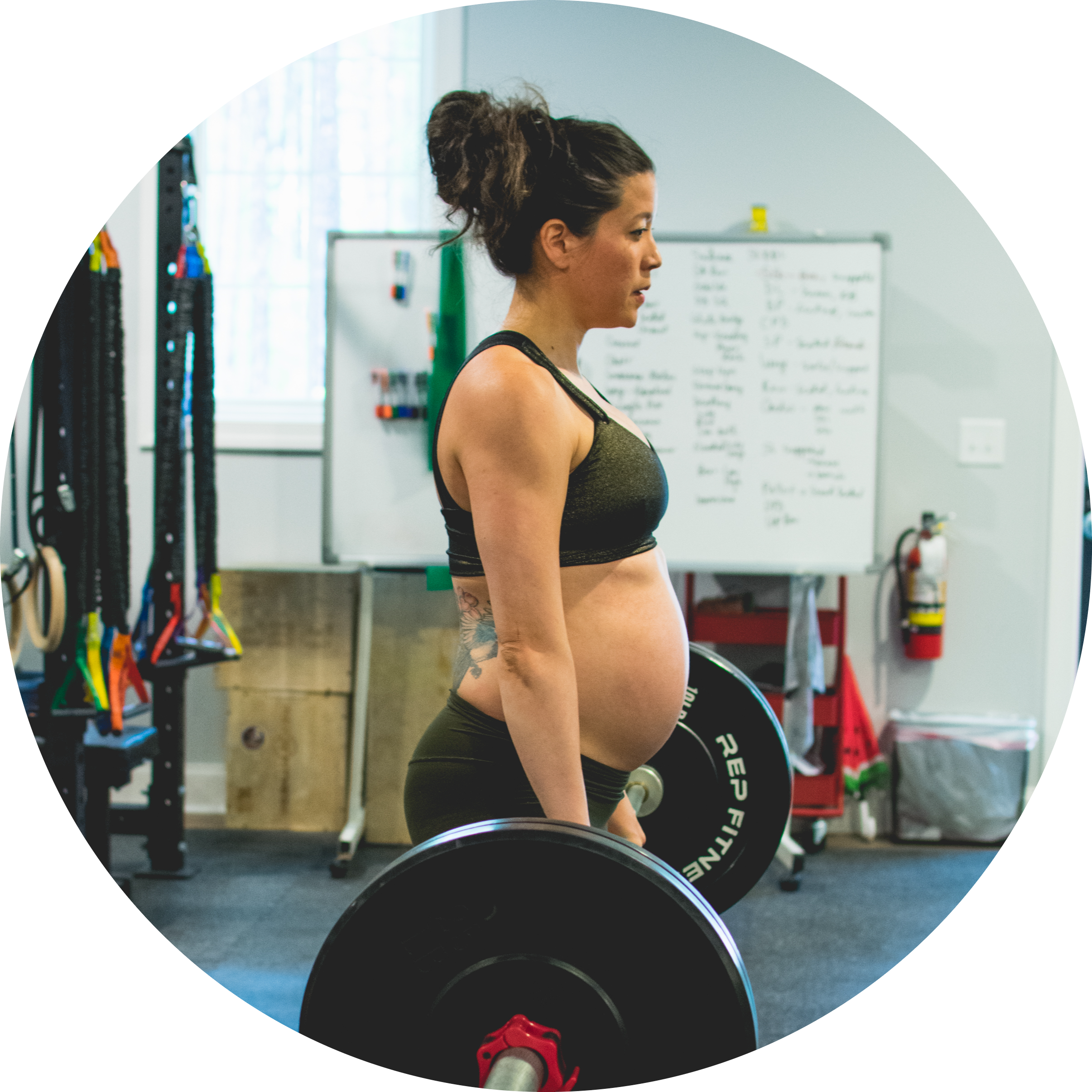 I'm the head coach at MamasteFit, with my masters in exercise science. I've been exclusively training prenatal and postpartum women for the past several years, and have spent the time refining our fitness programs!
Both our prenatal and postpartum return to fitness and return to running program have been done by me personally! This has allowed me to refine our programming over the course of 3+ years, by both my own experimentation and feedback from my fitness clients.
Read my recent birth story here!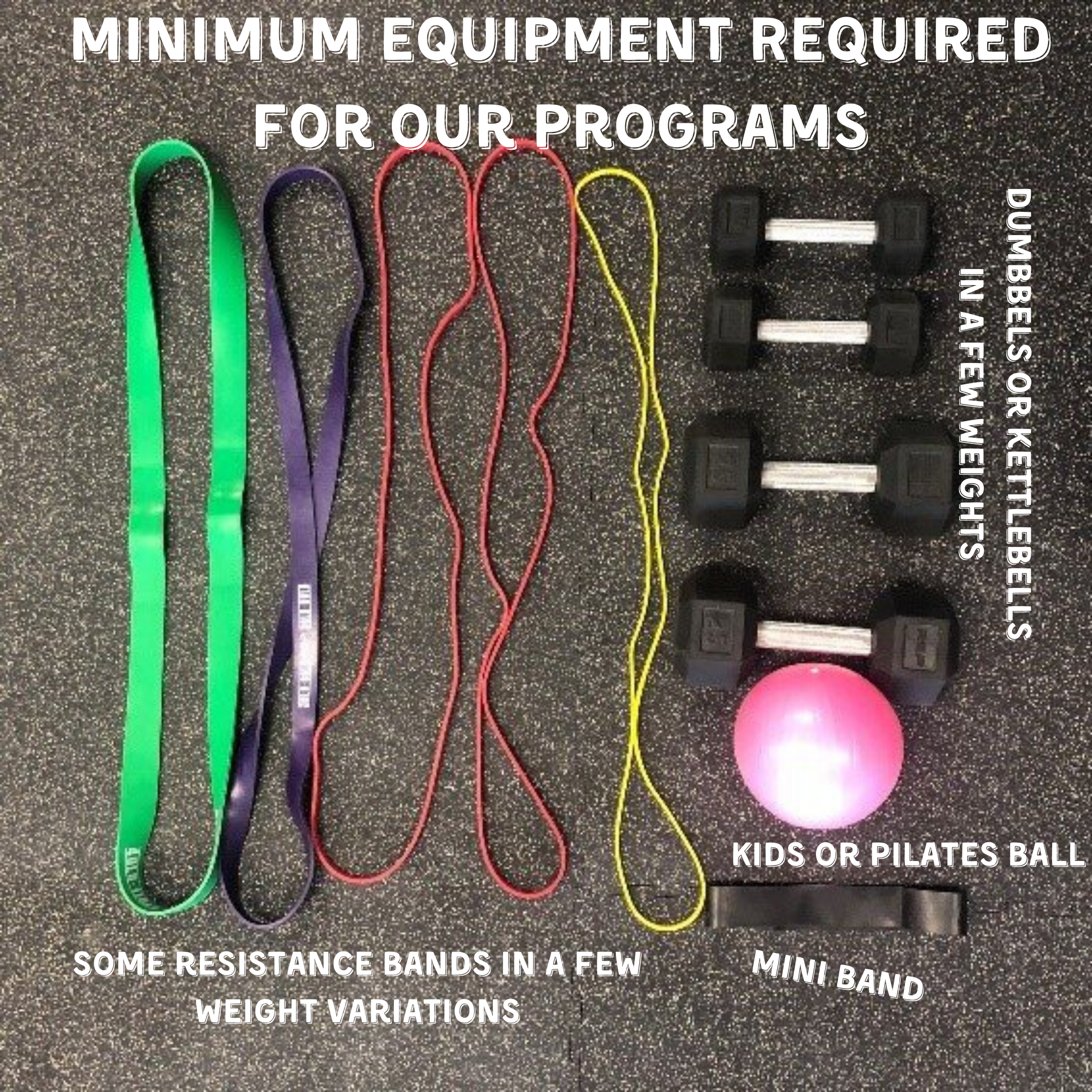 This program has been written for someone who has access to a full gym and stationary cardio machines.
The minimum required equipment to do this program includes:
Resistance Bands to attach to a squat rack, door frame, or sturdy structure. You need a point of attachment, or place to attach bands, in order to do several of the exercises in our fitness program. Here are a few recommendations:
Crossover Symmetry (our recommend resistance band system) there is a 20% off discount code within the education course. We recommend thepro package. These bands come with attachment options for a door frame, wall, or squat rack.
Therabands*: cheapest option
Mini Bands* to loop around legs for band work.
Step or stool (wooden box or stairs to step up onto)
Pilates Ball*
Weights: these can either be dumbbells, kettlebells, and/or a barbell w/ plates. You choose your option of weight. The program is written for someone who has all three, but you can modify movements that involve a barbell with dumbbells or kettlebells.
Walking route or cardio option (stationary machine, step up box)
Not required but recommended equipment:
Bench
Pull Up Bar/Attachment
Cable Machine or Band Attachment Area
Power Rack
(*please note there are affiliate links, and we receive a small commission if you purchase through our link)
What are our clients saying about our prenatal fitness programming?
"I'm so so thankful for the approach and reminder in ever single workout to do what feels right. It's part of my own journey, but I feel refreshed to have a natural focus on function of my body and my health, rather than all the other messages I've heard and listened to in other fitness programming. It actually feels life changing and healing."
"Just did my first prenatal workout and man was that a burner. Got me sweating and heart rate going. Most I have done in awhile. I feel great! Wish I would have started this when I found out I was pregnant and not 13 weeks in."